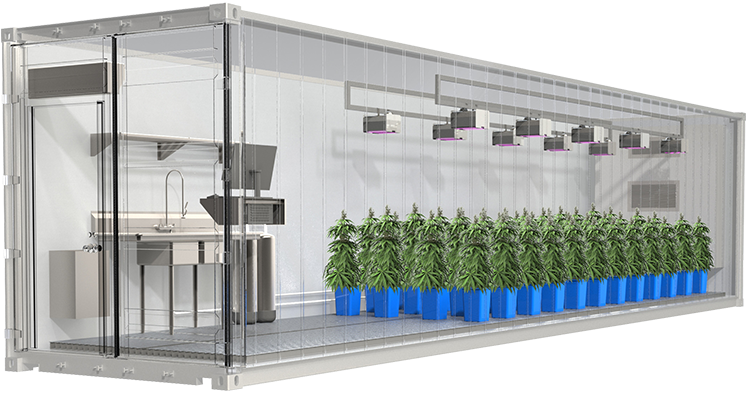 Maintaining an environment that supports the healthy cultivation that keeps plants healthy is not an easy task. In cannabis growing, there are a variety of factors that greenhouse managers and personnel must monitor to ensure that their plants are in a healthy environment that fosters growth and development. Temperature, humidity, lighting and CO2 levels are a few of the conditions that need to be tailored to each cannabis greenhouse operation. The Cannabis Industry Journal contains good information. Let's get started on Selecting the Right Monitoring System for your Grow.
Our Grow Linc system by Check-it Solutions is scalable and allows you to start simple or create as large of a connected monitoring solution as you would like. We realize it is very important to understand what you are measuring, why you are measuring it and how does the system pay for itself – what is the return on investment? Is the system easy to use and doesn't take time away from your valuable growing time? https://cannabisindustryjournal.com/
A remote monitoring system that's properly selected and installed can help greenhouse managers keep their cannabis plants healthy, multiply their yields and increase return on investment.
This type of system also helps operators identify patterns and trends in environmental conditions and get insight into larger issues that can prevent problems before they arise.
Key Conditions to Monitor and Why
Temperature
Temperature plays a crucial role in any cannabis grow operation. The climate in your greenhouse must be warm enough to nurture photosynthesis and the growth of cannabis plants. Setting the incorrect temperature will significantly impact the potential yield of the plant and the rate at which it develops. A temperature too low will slow the growth of the cannabis, but too hot can lead to heat stress for your plants. The ideal temperature for a standard greenhouse is between 70 and 80 degrees Fahrenheit. However, depending on the stage of the plant growth and desired growth densities, the temperature of the greenhouse needs to be adjusted and maintained accordingly.
Humidity Levels
Humidity directly affects plant photosynthesis and transpiration, so controlling humidity is vital in greenhouse growing. The ideal relative humidity (RH) for cannabis growth is around 60%. A low humidity level can cause water to evaporate too quickly for photosynthesis, while a humidity level that is too high can cause poor growth and possible mold and fungal disease. Monitoring the moisture content in the air of your greenhouse will help the plants during the transpiration process, increasing absorption of nutrients and overall health of the cannabis. Selecting the Right Monitoring System for your Grow.
Lighting
Your cannabis may be getting an abundance of natural light during the summer months, but maintaining adequate sunlight during the winter months can be a challenge. As a solution to this, many greenhouse managers equip their facilities with additional lights to supplement natural light during off-seasons or off-hours. To achieve the best possible yield, a cannabis plant in the budding stage should receive twelve hours of light each day, while other stages could require additional lighting. For example, the growth stage could require your cannabis to be exposed to sunlight for up to eighteen hours a day.
CO2 Levels
Like any other plant, cannabis requires CO2 to breathe. Greenhouse managers must set and monitor the CO2 levels in their facility to make sure that there is an adequate amount for the plants to develop, grow and be healthy. The amount of carbon dioxide required for your cannabis depends of the size of the facility and the amount of light the plants are receiving. However, a standard grow area for cannabis can maintain a CO2 range from 1000 to 1500 parts per million (PPM). A level below that threshold can result in slower growth of the plants, while a level above would lead to unused and wasted CO2.
Irrigation and Soil Moisture
One way to ensure a good yield from your cannabis is to water it regularly and monitor your soil moisture. Overwatering your plants can have the same effect, if not worse, than letting the soil become too dry. Plants' roots need oxygen to survive, unlike leaves that breathe CO2, and when the soil is waterlogged the roots can't provide their function. The lack of oxygen interferes with the roots' nutrient uptake and photosynthesis causing the cannabis plant to wilt. The exact moisture content of the soil depends on the size of your greenhouse, temperature and humidity. Whether you hand water or are using a drip irrigation system, being aware of your soil moisture is vital to the long-term health of your cannabis.
Air Circulation
Your greenhouse environment should mimic the ideal conditions in which cannabis plants flourish. With an indoor facility, you have the ability to control air circulation by venting hot air out and blowing fresh air in. Creating a circulation of air inside your greenhouse will increase your cannabis plant's growth speed and yield. Additionally, an exhaust system helps control the temperature and humidity, while also preventing the invasion of mold and pests that thrive in hot, stagnant air.
Greenhouse Security
When growing something of value, like cannabis, there will always be a threat of intruders. Whether your greenhouse is in a populated area or around hungry wildlife, any intruder could be detrimental to your overall yields and profit. Remote monitoring systems can give you peace of mind and instantly alert you when there is an unwanted presence in your greenhouse.
Knowing all the possible threats to your cannabis greenhouse helps you evaluate your specific needs, and ultimately identify the proper remote monitoring system.
Selecting the Right Monitoring System for your Grow
Other factors to consider when choosing a monitoring system right for your operation include:
Base unit and sensors
Wireless or hardwired sensors
Communications to your site (Phone, cellular, Wi-Fi, etc.)
Alarm notification
Programming and status checks
Data logging
Return on investment
Base Units and Sensors
Each condition in your greenhouse that you want to monitor requires its own input on the base unit of the monitoring system. You must match your needs with the number of inputs available. A good fit for a smaller cannabis greenhouse may be a lower-cost, non-expandable monitoring system. However, larger facilities have many monitoring points and more people to alert when there's a problem. If your cannabis operation is poised for growth, purchasing an expandable system could add value to the initial purchase because you wouldn't have to replace your entire system in the future.
Your monitoring system should also have an internal rechargeable battery backup to ensure continuous monitoring and alerts in the event of a power outage. It is also recommended to have each base unit in a sheltered enclosure to protect it from moisture, dirt and other hazards.
Placement of sensors is also crucial. For example, temperature sensors in your greenhouse should be placed throughout the facility. They should be next to your thermostat and in the center of your greenhouse, preferably away from direct sunlight.
Wireless or Hardwired Sensors
Remote monitoring systems offer the option to have sensors hardwired directly to the base unit or sensors wirelessly connected. A hardwired monitoring system connects the sensors to the base device with wires. Generally, trenching long distances for wires is time consuming and costly. So alternatively, a wireless system uses built-in radio transmitters to communicate with the base unit. Some monitoring systems can accommodate a combination of hardwired and wireless sensors.
Communications to Your Site
Monitoring devices that use cellular communications must be registered on a wireless network before you can send or receive messages. Because cellular devices perform all communications over a wireless network, it is important that there be sufficient signal strength at the greenhouse. It is a good idea to check the signal quality in the area before purchasing a cellular product. If the cellular network has less than desirable coverage, it is possible to install an external antenna to help increase cellular signal.
Alarm Notifications
When monitoring systems identify a change in status, they immediately send alerts to people on the contact list. If you don't want all of your personnel to receive notifications at the same time, certain devices can be programmed to send alerts in a tiered fashion. It is important to consider the reach of the communications, so that you'll be notified regardless of your locations. Multiple communications methods like phone, email and text provide extra assurance that you'll get the alert. Also, note of the number of people the system can reach and if the system automatically cycles through the contact list until someone responds. Make sure the system allows for flexible scheduling so that it doesn't send alarms to off-duty personnel.
Programming and Status Check
If you're responsible for maintaining a commercial greenhouse facility, you want a system that will provide real-time status of all monitored conditions on demand. There are a few different ways to access your sensor readings. Options include calling to check status, viewing a web page, either on a local network or on the cloud, or accessing the information via an app on your mobile device. With a cloud-based system, the devices supervise themselves. This means if the internet or cellular connection goes down, the device will send an alarm to alert the appropriate personnel.
If you don't select a cloud-based system, you will be limited to logging in through a local area network, which will allow you to make programming changes, access status conditions and review data logs. If internet connectivity is not available at your location, you will want to choose a cellular or phone system rather than Ethernet-based option.
Data Logging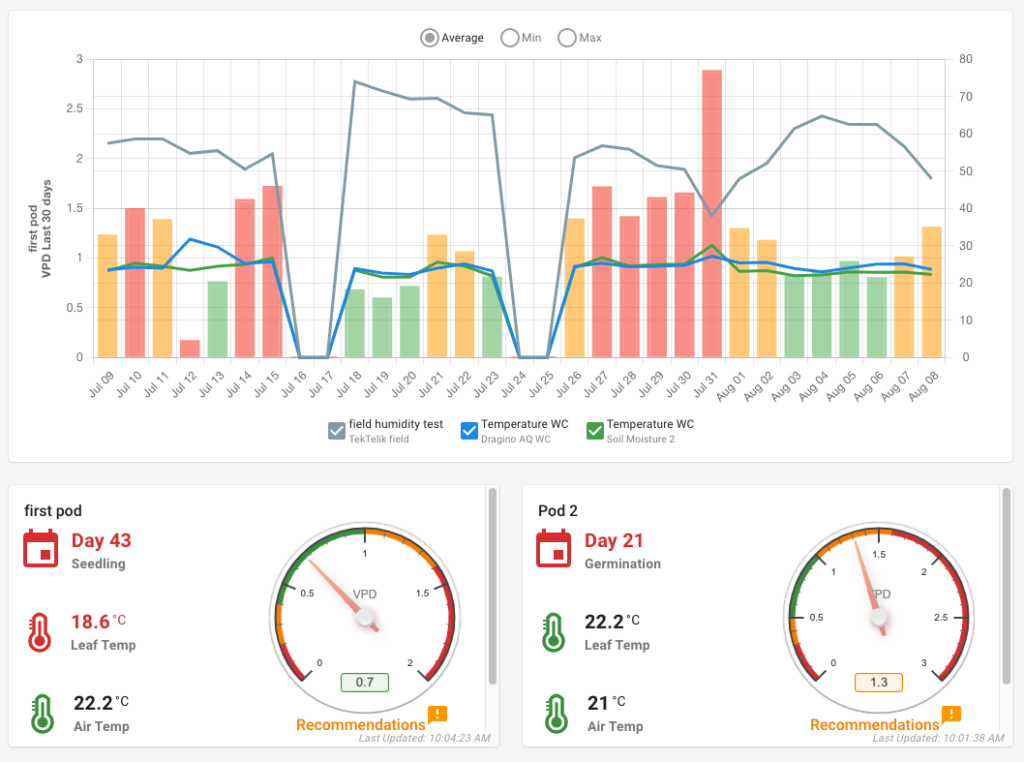 Data history is valuable in identifying patterns and trends in your cannabis greenhouse conditions. Manually monitoring and recording environmental parameters takes a significant amount of personnel time and detracts from other important workplace demands. However, many monitoring systems automatically save information, recording tens of thousands of data points, dates and times. Cloud-based logging provides an unlimited number of records for users to view, graph, print and export data trends.
The Grow Linc algorithms will ensure your growing environment is always in ideal conditions and provide many warnings and alerts if there are any issues. This also includes automatic trending data to ensure each grow is consistent or even larger yields using the recommended Grow Linc suggestions.
Analyzing data samples may lend insight to larger issues and prevent problems before they arise. For example, if the data log shows power fluctuations occurring at a regular time, it could be indicative of a more serious problem. Or, if the data shows signs of a ventilation fan or supplementary lighting beginning to malfunction, they can be repaired or replaced before total failure occurs.
Return On Investment
When deciding how much you should pay for a remote monitoring system, tally up the entire cost, fully installed with additional peripherals and sensors and any labor fees for installation. Then consider the value of your cannabis plant inventory and greenhouse equipment. Finally, factor in the cost of downtime, should an environmental event shut down your operation for a period of time.
Technical Facts about Grow Linc
Now that you have a good understanding of the Framework that goes into developing a monitoring system, let's explain how we do it at Grow Linc by Check-It.
Measurements
Our Grow Linc Starter Pak measures CO2, VO2, Temperature, Humidity, Light and contains our own powerful Hub to connect everything you need, including a Grow Log! This Starter Pak is easily expandable if you want to monitor more than one room at a time.
Our Grow Linc VPD Plus Pak contains the equipment found in our Starter Pak, plus an additional Leaf Wetness , VPD and Electrical Conductivity (EC) sensors, and calculates Vapour Pressure Deficit (VPD). VPD is a very important measurement when growing Cannabis as it impacts yields and quality. We have automated the calculation for VPD and believe its a key measurement when choosing a monitoring system. This VPD Plus Pak can easily handle multiple pods.
Our Grow Linc Solution coverage is long range with a low battery usage(long life). Our system sends alerts and recommendations when your room is outside of the ideal range that you have set.
Easy to Use Interface. What is the point of having something if it has not been designed with the User in mind? Grow Linc's user interface is easy to use and intuitive.
Return on Investment. We know how valuable your grow is. Being able to provide consistent yields and results, time after time, is important to the financial health of your business. At Grow Linc, we believe that you will achieve a positive ROI in a relatively short time.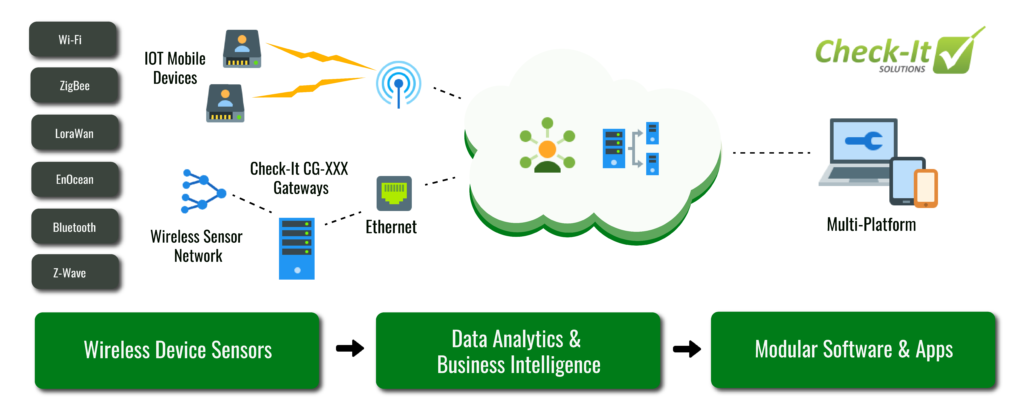 Final Thoughts
Choosing the right greenhouse monitoring system and sensors could mean the difference between life and death for your cannabis plants. Understanding the conditions you need to watch and monitoring systems' capabilities are they best way to protect your investment. Selecting the Right Monitoring System for your Grow.