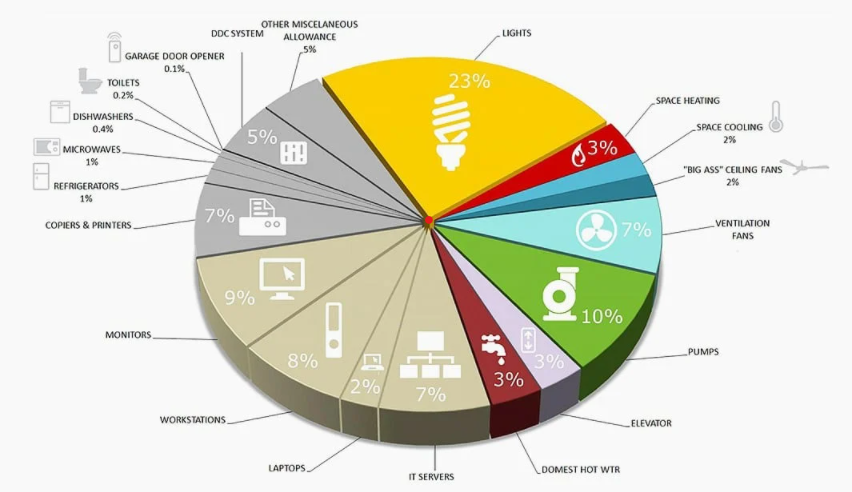 The way the world produces and consumes energy is changing fast. There is a need for Smart Energy Accountability. Technology & Sensors are now embedded in our everyday life and business. The need for data is growing exponentially and sensors are used to capture any data in almost any situation and location.
Internet of Things solutions (IoT) are enabling compelling new business models that support an increasingly complex energy infrastructure.
How is the IoT changing the energy ecosystem?
We're in the midst of an exciting smart energy transformation. New stakeholders join the energy marketplace as they install solar panels on homes and businesses and purchase electric vehicles where power is stored.
The IoT is a vital driver of this smart grid​ evolution, enabling innovative ways to leverage devices, data, and remote access to create new business opportunities for various stakeholders.
We are seeing energy accountability in client projects that allocate costs in a multi-tenant commercial building. This is not sub-metering. This takes into account the whole HVAC infrastructure to gather as much information as possible to alert you of preventative maintenance ahead of failures
What is Accountability?
Accountability is when an individual or department experiences consequences for their performance or actions. Accountability is essential for an organization and for a society. Without it, it is difficult to get people to assume ownership of their own actions because they believe they will not face any consequences. If you are not accountable for your energy costs, you are less likely be responsible for making changes. This shift in company culture to look for energy savings will be as important as Safety and Quality. Smart Energy Accountability.
How well are you managing your energy costs?
This article from Harvard Business Review explores how companies can better manage their utility bills. It highlights measures such as installing smart building controls, and even suggests installing local renewable energy production facilities, such as photovoltaic solar.
We often talk about the need for a greener operation, but to spend much time focusing on reducing energy consumption, we must be accountable for it.
Increase energy visibility
A data centre infrastructure management system can help you and their data centre manager to get better visibility into infrastructure energy usage. This category of software draws information from the IT infrastructure to help assess performance, capacity, and power usage. Often linked to sensors distributed throughout the facility, they can help managers better understand their IT infrastructure, and then model it for optimal performance.
What is Check-It's Solution?
Check-It Solutions has integrated with hundreds of IOT sensors from embedded to fixed to battery-powered stand-alone wireless devices. This provides us with the experience and ability to use the right sensor in any given situation. Check-It will implement new sensors or use your existing field devices to gather the data required.
LoRaWan technology is the leading long range wide-area networking technology. The LoRa Alliance works to standardize the use of LPWA networks to enable large scale Internet-of-Things (IoT) deployments. The adoption of these networks will lead to advancements in Smart Cities, agriculture, advanced metering, and much more. The area of Smart Meters in energy management is growing rapidly. Smart Energy Accountability.
Check-It Solution has supported the use of LoRaWAN technology through the development of our proprietary Hub. Our Hub leverages IoT technology and LoRaWAN networks to communicate with LoRa based meters. But out solution goes beyond Smart Meters. It looks at the health of your whole HVAC system. From energy usage, air quality and flow. Our Clients that are using this technology, understand the cost and performance benefits that LoRAWan brings.
"The technical capacity to grab a lot more data points across a wider area at a lower cost".
"Before LoRaWAN, the coverage was not there. By utilizing LoRAWAN, the coverage is quite good allowing more data to be gathered at a lower cost".

"Metering is an ideal use case for the LoRaWAN standard, and once a LoRaWAN network is active for metering it offers significant expansion opportunities to add new applications without a further investment in infrastructure. I look forward to following OATI as it grows its deployed base in this market and beyond." CEO, Donna Moore LoRa Alliance.https://www.oati.com/Newsroom/Press-Coverage/oati-joins-lora-alliance

Check-It is adapting LoRaWAN technology for smart metering in our platform of integrated wireless sensors to capture the right data at the right time to make actionable decisions. We look forward to working with existing and new clients to bring this technology forward into this space. Smart Energy Accountability.
With our Smart Energy Monitoring Solutions, we collaborate to define what to measure, understand why you are measuring each item and determine what the optimal conditions are. The next step is to put all of the data together and pull out actionable data to make better decisions.